Cook Brothers Truck Parts Wins Distributor Of The Year Award
INDUSTRY PRESS RELEASE

The COVID-19 virus resulted in one of the strangest years in recent history and challenged everyone in the trucking industry.
Despite the seemingly endless hurdles that had to be cleared because of the pandemic, Cook Brothers Truck Parts has been named winner of the Trucks, Parts, Service Distributor of the Year Award for 2020. The Distributor of the Year Award was announced at Heavy Duty Aftermarket Week's (HDAW) virtual event this morning.
"We took a significant hit the last two weeks of March and April, but we've come back strong since then," Henry Cook Jr. says of doing business through the pandemic.
Cook Brothers, which also was named a Distributor of the Year finalist in 2010, has nine locations in New York and Pennsylvania. In addition to selling parts and offering driveline repair and hose manufacturing services, the company started NEC Leasing, which is part of the NationaLease organization; has its own brand of brake products, marketed as RoadWolf; and Cook Commercial Lubricants co-brands a line of lubricants with DA Lube.

Furthermore, in 2019, Cook Brothers Truck Parts kicked off its 101st year with a completely rebranded website, adding the ability to place quick orders online, giving truck parts customers a new way to buy products from Cook Brothers.
With all these products and services, it's hard to imagine the company began as a single Brockway truck dealer in Binghamton, N.Y., in 1918, owned by Cook Jr.'s grandfather, Everett, and George Brockway. Cook Jr. eventually bought in 1972 what had become Cook Brothers Truck Parts from his father and uncle, Charles Cook.
"Coming from a small town like Binghamton, we're not a specialist, we're a generalist. We have everything for the truck as well as trailer parts under the frame," says Cook Jr. "We kept expanding [the business] into various cities with that [generalist] philosophy and it seemed to bode well for us against the specialists in the big cities."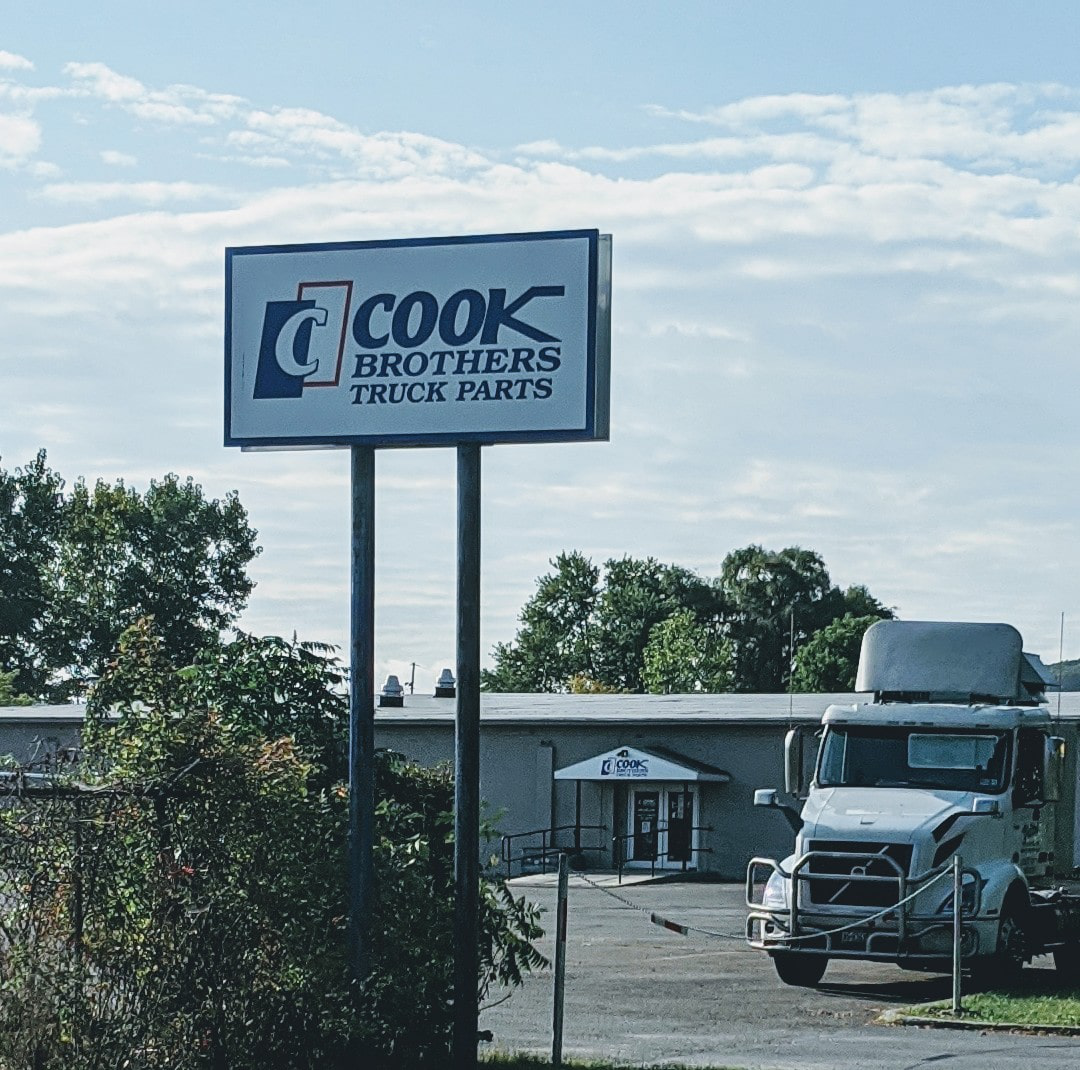 Cook Jr. says the company is a one-stop-shop, likely because it carries a staggering amount of inventory — more than 137,000 SKUs. "We kept growing the business and I'm pretty confident we have a high market share. We have very little competition that could service all the needs we can for a customer," he says.
Cook Brothers prides itself, not just on the quantity of parts, but the quality. Cook Jr. says competitors focus on the price of the part and not the quality of it.
"The whole market has moved toward taking away the safety factors on products in the quest to produce products cheaper, which harms safety and increases cost per mile. I try to focus our salespeople and our counter people on focusing our customers on cost per mile; it's not just initial cost," he says.
In addition to the breadth of stock it carries, Cook Brothers also prides itself on the knowledge of its employees to provide better customer service.

The company produces a Know Your Products (KYP) bulletin to keep employees informed of product data, new products and additional product lines from current vendors, among other information, says Bob Seyerlein, vice president and part owner. The KYP bulletin ensures employees are kept abreast of the company's offerings and marketing, he adds.
Cook Brothers always has been family owned and a major part of the company's foundation of quality staff and superior customer service is to extend that feeling of family to its employees, says Mike Venuti, vice president and part owner.
"When employees feel appreciated and really believe their employer cares about them, they tend to do a better job and become more invested in the success of the company," Venuti says. "The attitude of our employees carries through every aspect of their job and they think of our customers as their customers. The end result is that everyone is pulling in the same direction, which ultimately leads to greater success for the overall company."
Cook Jr. adds the family-like culture extends to the company's customers by encouraging Cook Brothers employees to have an attitude of appreciating customers and wanting to assist them.
"If the customer feels appreciated, then he wants to do business with us. The customer can get [parts] anyplace and he can buy them for the same price and maybe for less. It's a matter of who does he want to buy it from," he says.
In addition to its large inventory and knowledgeable staff, Cook Jr. says customers "want to buy from us because they like the people they're doing business with. I still think people appreciate being treated with respect. I want our people to make the customer feel special."
Cook Jr. says winning the 2020 Trucks, Parts, Service Distributor of the Year Award would be the culmination of the hard work and dedication of Cook Brothers employees.
"The owners of any business have to work hard to keep the business afloat but I would really like to win this for our employees. If we could win this award for our employees, it would be extremely gratifying … especially this year. All of these employees who have come to work every day and worn masks and gone out and delivered parts in the face of the virus — it's something," he says.
Seyerlein says the company would be proud to be the award recipient because it acknowledges that Cook Brothers has done a good job.
"Everyone knows that employees make the company but very few companies actually operate under that premise. We do and always have," Venuti adds. "This award shows that a family owned business can rise to the top without sacrificing the values the company was built upon."

https://www.truckpartsandservice.com/distributor-of-the-year/article/14991887/cook-brothers-truck-parts-wins-distributor-of-the-year-2020